Eroticon UK 2019 – Virtual Meet and Great!
I will start by saying that I can't express how excited (and nervous) I am about Eroticon!  It was a very impulsive decision to register, gather the funds for travel and hotel, and take the time off work, even though I thought about it for months!  The impulse came after reading everyone else talk about going and feeling like I was going to miss something amazing.  I don't feel like I belong among all these wonderful people and that was what forced me to impulsively go!  Usually, I don't do things on impulse so this is a change for me.  I couldn't be happier about it.
What is your name on Twitter?
Toyforsir.  Chrisy for face to face.  (Because saying "toyforsir, let's have lunch!" just sounds weird!
What three things are you looking forward to about Eroticon?
First, I can't wait to meet the people that I have met and talked to online.  Those that have helped me and those that have encouraged me.  I just might cry – so be fair warned!
Second, the workshops.  In all of my previous professions, I have always gone to workshops.  This is my first writing workshop and I love that I finally looking forward to spending a full weekend inside gaining knowledge, building my skills, meeting new friends!
Third, I am taking that brave step to travel abroad for the first time ever, alone!  It was one of the things that almost stopped me from going.  With some help from everyone I asked and emailed and direct messaged and a little research on my own I think I'll actually make it.  If I don't misinterpret the tube and end up in another town – I'm all good!!
Nominate a song for the Friday night meet and greet.
There were so many that would have been appropriate but I've liked this song as it reminded me to just be myself, even when I wasn't.  That is what this group of folks reminds me every day.  We are all fucking perfect, even when we aren't feeling that way!  (She has a "G" rated version if we need to temper things for the venue).
What is your favorite book or item you have purchased?
Well, I am going to go with my blog!  This was a tough year and I almost didn't think the blog was going to survive, or even if I was.  We are both still here, so good purchase!
You can have an unlimited supply o one thing for the rest of your life, what is it?
Good sleep!  Maybe just 6 hours a night of decent sleep!
What is your favorite quote from a movie?
"Ladies don't start fights, but they can finish them!"        ~Aristocats
What is your one-word suggestion for the next years Eroticon Anthology?
Fierce
Complete the sentence:  I feel…
I feel lost and found a million times every day.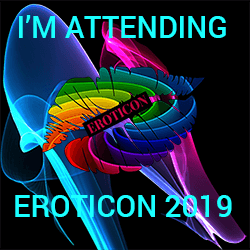 Checkout other folks who are attending!  Check out who's who!